One of my grad school professors once told me that creative people rarely finish their projects. In 2021, I set out to write and perform 12 original birthday songs and deliver them to friends on or before their DOB.
This track (for Justin) features my talented friend and neighbor, Yohei Shikano, playing bass and significantly supporting my guitar stylings with his own. It was recorded at his place in Mount Washington on July 3rd, just as the birds were singing their evening songs and early fireworks started to pop through the canyon.
On December 4, 2021, I finished The Birthday Project and performed all 12 songs at an intimate gathering for birthday honorees and other close friends.
This project brought me outside of my typical diary style of writing and allowed me to think about another person, who they are, what our relationship is, what it means to have your birthday in April or October or December, how it feels to share a birthday, and the marking of time as the pandemic marches on.
The birthday deadlines also pushed me to learn and improve my skills on different instruments. I had never written anything on guitar or ukulele before I felt the dates looming and needed fresh ideas.
It was a great experiment overall. Happy Birthday, everyone! - Liz
Here's the video I made for Jake in June:
January: "Abracadabra" - for Joe Napolitano (1/1)
February: "Birthday Buddies" - for Brian and Bridget, who share a birthday (2/7)
March: "Something Out of Nothing" - for Chris (3/30)
April: "Someday" for Pete (4/2)
May: "See You In Palm Springs" for Jon (5/20)
June:
"Jacob's Lullabye"
- for Jake (6/21)
July:
"Magic Curtain"
- for Justin (7/5)
August: "Who Knew There Was A Lioness?" - for Jane (8/6)
September: "Back Seat" for Aaron (9/2)
October: "Roses" for Piper and Maya (born 10/4/21 and 10/6/21)
November: "The Old Routines" for Danielle (10/22 -- belated)
December: "Holding the Lights" - for Lindsay (12/27)
I released a surprise single in July 2020, recorded and engineered by, and featuring my friend and neighbor,
Yohei
.
Here's the video I made for Aaron in September:
Hoping to record 'em all and release in 2023. Currently crowd-sourcing images of people blowing out birthday candles. Reach out if you're reading this and have some to share.
Following the March 11, 2020 release of
Rock Record
, eclipsed by the COVID-19 pandemic shut-down that Friday, Los Angeles singer songwriter, pianist, and teacher Liz Pappademas returns to Baker and Pine Recordings with a fully improvised instrumental EP.
Aeolian Bedforms
is an exploratory, calming, six-song solo project. Composed, performed, and recorded by Pappademas, the song titles reference playgrounds from Pappademas's childhood in San Francisco, except for the final track, written the day Mark Hollis of the band Talk Talk passed away.
The album title speaks to the aerodynamic ripples arising spontaneously out of a two-way interaction between surface and air, and the irregular transfer of material between them. Aeolian bedforms are dunes, wave-like motions and shapes on Earth or elsewhere.
In Pappademas's own words: "The improvisations on
Aeolian Bedforms
were created by selecting a keyboard setting (which on the Korg SV1 are all round dials), or sitting at the piano, then thinking of a place, and recording what comes to mind. When one 'song' is finished, turn the dial or re-place your hands at random and see where that sound takes you.
I wrote these songs thinking of the places I used to play, usually alone, when I was a little girl. San Francisco is a small city, so it's easy for a young person to get around. I did not have to rely on my parents to drive me anywhere. I would listen to my Walkman while hiking through the foggy eucalyptus groves in the Presidio. I'd build forts and have conversations with myself, skateboard to the playgrounds, shoot free throws for hours, inventing imaginary teammates and rivalries. Childhood is a perpetual state of improvisation.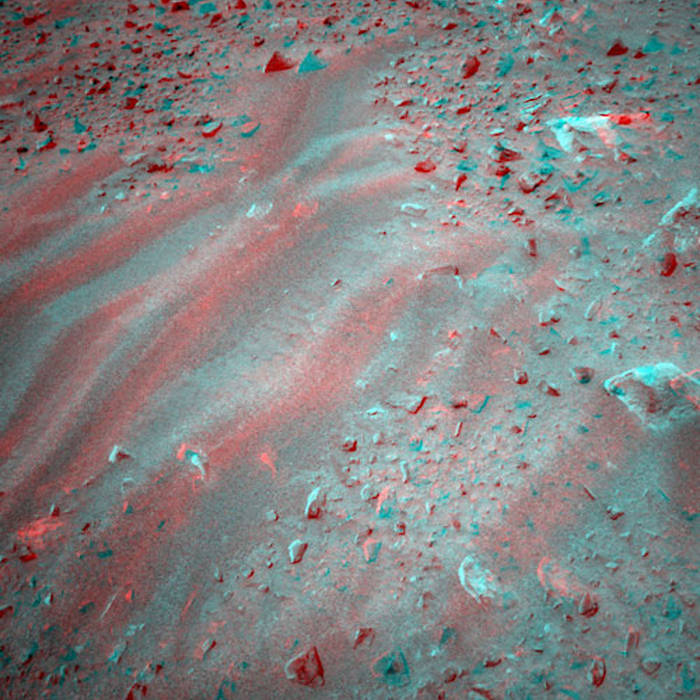 The final track was my attempt to connect with Mark Hollis's memory, his style of playing, and to mourn a great loss without using words. Talk Talk's records continue to influence the way I listen to and write music. This album is a tribute to the music that calms us, that transports us to another time and place, that arises, spontaneously out of the sand and wind. Even though we are constrained by the pandemic, we can still travel in the mind."
Pappademas considered developing the songs on
Aeolian Bedforms
into more structured pieces with additional instrumentation, but decided to release them to the world as is, with the hope that
Rock Record
would sustain any listeners seeking a more polished product. For fans suspicious of this new direction, Pappademas's next piano/vocal album, Love Premiere, will be released in 2021.
Released on 11/6/20 (a Bandcamp Friday), all proceeds from this EP will be donated to
Sunrise Movement
, which aims to stop climate change and create millions of good jobs in the process.
"Magestic. A dreamy-breezy confession ... lit up with contrails of Neil Young–style electric guitar." -
LA Weekly
"A robust, fully formed Americana-rock album." -
Buzzbands LA
"I was listening to a lot of Led Zeppelin and hiding out in a rented room in a 1920s house in the Hollywood Hills. I hadn't performed in many years and definitely had not considered starting a band, much less making a new record.
The piano was too big for my room so it lived in the garage, which had 12-inch cement walls and could be accessed via a brick passageway and a wooden ladder just outside my room. The Bunker. I would write down there with the paint cans and the old deck chairs, secluded from the world.
I had been out of the scene for several years, going to grad school, working as a learning specialist, still writing but focused on other things.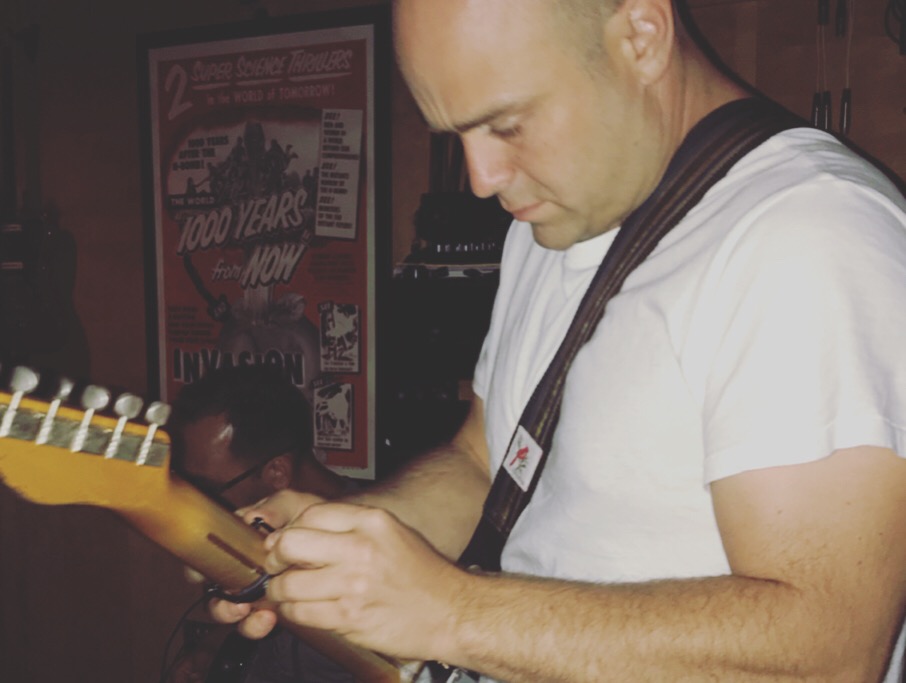 Above: Chris Harrison
After Aaron and I ran into each other at a party and discussed the aforementioned Led Zeppelin obsession, we started working together at The Bunker, playing Dwight Yoakam and Leon Russell songs. He also shared some unfinished songs he'd been working on. I couldn't help but try to finish them. I saw those songs as an exercise, stuff he'd perform with his band. I'd never cowritten anything unless under instruction to do so from my Berklee professors, but it felt safer and like less of a commitment writing something for him than to share my own work.
L to R: Aaron Kyle (guitar), Jonathan Price (bass), Brian Soika (drums)
Dwight and Leon were the gateway. Pretty soon, Aaron invited (guitar player) Chris Harrison over to the garage to play and it sounded too good not to get a bass player and drummer, so we recruited Brian Soika (drums) and Jonathan Price (bass). For New Year's Eve 2017 we learned 30 songs by everyone who had passed that year. Tom Petty, Fats Domino, Glenn Campbell, Walter Becker. It was a crash course in rock and a great way for us to get to know each. Aaron convinced me to play a few of the songs we'd been working on and pretty soon we were meeting with Joe Napolitano who had just moved in to Barefoot Studios in Hollywood.
The famous
Crystal Sound
comic.
Barefoot was originally the old Crystal Sound where Stevie Wonder recorded "Talking Book" and "Songs in the Key of Life" and "Hotter Than July". I got to play his nine-foot Yamaha grand piano. It was pretty special. I also got to play vibraphone on the last track of the record, which was pretty fun and something I'd never done before. So much of the music that has been my go-to from the start was all made in this twelve-block radius in Hollywood. All these studios, warehouse type buildings that look like nothing from the street, were making huge singles and seminal albums: Neil Young, Joni Mitchell, Fleetwood Mac, even Zeppelin came through. And now here we were in this new era for Barefoot. I'm really proud to say that this record was the first full-length finished for Studio B.
Rock Record really is a Hollywood album -- The Bunker in the hills, Barefoot on Vine, and we mastered it at Capitol. We named it Rock Record to signify the departure from my more singer-songwriter folk music from ten years ago, and as a thank you to the rock music that helped me through some pretty dark times coming off of
Television City
and shifting gears around education and music. As much as I tried to stay quiet and hidden, sometimes you just need that catharsis that comes from turning up and playing with a band. There's a sense of risk to this music and a sense of urgency. The doors are wide open, the unknown beckons, and summer won't wait another hour.
Vibraphone set up at Barefoot Studios
Press photo by
Peter Baker
Record Release poster by
d.norsen
iPhone recordings created between February 20th and May 26th, 2013, in the Cal State Northridge practice rooms and at an apartment on Dunsmuir St. in Los Angeles. Released with limited fanfare and no live performances.
Limited-edition copies of the album came with a
27-page booklet
detailing the album concept and its inspriations.
Click here
to view.
"Television City" features The Level, a band put together solely for this project, and members of the
Killsonic
jazz collective. Pappademas was a member of the accordion section of Killsonic from 2007-2010. The Level was Mike Corwin on guitar, David Alvarado on bass, and Justin Polimeni on drums. Ben Jaffe also played drums with the group for a short time.
"The ambitious album is a cycle of interconnected songs about a fictional game show called
Who's Your Neighbor?
The concept allows her to explore the inner lives of a fascinating set of characters. Pappademas' forceful piano accents frame the action stylishly on such sly, melodically rich pop gems as 'Your Favorite Game Show' and 'Grand Prize Winners,' while the album-closing 'Parting Guest' is a trippy sound collage of mesmerizing echoes." - Falling James,
LA Weekly